Popular Ethiopian protest singer shot dead

By

misspapi

• 2 weeks ago •

1934 views •

746 comments
Demonstrations have broken out in Ethiopia following the shooting dead of musician Hachalu Hundessa, well known for his political songs.
Two people have died during protests in one town, doctors told the BBC. 
Hachalu's songs often focused on the rights of the country's Oromo ethnic group and became anthems in a wave of protests that led to the downfall of the previous prime minister.
The 34-year-old had said that he had received death threats. The police are now investigating the killing, which took place on the outskirts of the capital, Addis Ababa.
Thousands of his fans headed to the hospital in the city where the body of the singer was taken on Monday night, BBC Afaan Oromo's Bekele Atoma reports.
Image copyrightREUTERSImage captionCrowds of people came out to mourn the singer in Addis Ababa
To them, he was a voice of his generation that protested against decades of government repression, he says.
Police used tear gas to disperse the crowd. 
Gunshots have been heard in Addis Ababa and people set fire to tyres.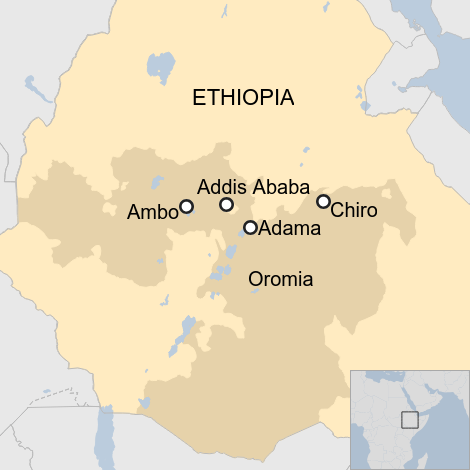 Related Post viewed by other
746 Replies | Last update 5 days ago |
Last comment ikerd
»

»

»

»

»

»

»

»

»

That's sad to hear. Thanks for sharing this information on this platform

»

»

»

»

To them, he was a voice of his generation that protested against decades of government repression, he says.

»

»

»

»

»

»

»

»

»

»

This is a sad development.  Thanks for sharing 

»

May his soul rest in peace and my condolences to his family 

»

»

Indeed they must be the priority thank you for sharing this information with us 

»

This is really sad may his soul rest easy 

»

»

This is so sad how can you end someone's life just like that

»

So unfortunate that he had to die like that thank you for the had to die like that thank you for sharing this 

»

»

»

»

»

»

»

This is very sad, my condolences to the family. Thanks for sharing this article. Please continue updating us.

PRIMES is the best

»

Thank you for sharing this information

»

»

»

»

»

This is very sad for the this singer death am very shocked i know this guy from ethopia its so sad news i mourn with the family may his soul rest in peace

»

 hachalu says that he had received death threats, what where others doing about this

»

»

»

»

Thanks for the information

»

Silencing a man just because you don't want him to speak out is a very evil act.

»

»

This is heart breaking, may thisatter be investigated fully.

»

»

»

My condolence po the family,may his soul rest in peace what a sad development

»

»

»

may his soul rest in peace

»

May his soul rest in peace and my condolences to his family.

»

»

»

»

Thousands of his fans headed to the hospital in the city where the body of the singer was taken on Monday night

»

»

So sad thanks so much for the information you have shared much appreciated 

»

»

»

May his soul rest in peace

»

This is sad may he rest in peace

»

Condolences yo the family

»

thanks for the information in the above article. did not know this till now.

»

»

»

»

»

»

»

Two people have died during protests in one town, doctors told the BBC.

»

»

»

»

So sad for the 34 year old hachulu hundessa  may his so rest in peace 

»

Interesting piece of information

»

»

»

»

»

»

May his soul rest in peace 

»

»

»

This is very sad and disheartening at the same time

»

Too bad for the man and his family, but why shooting someone surely in this era

»

so sad amy his soul rest in peace

»

»

»

»

»

»

»

»

Thanks for the information 

»

May God comfort the family

»

This is sad

May his soul rest in eternal peace

»

»

»

»

»

Wow this is interesting and Very profound and rare information. I must say I'm greatly amazed at this much information. Very insightful
    

»

»

»

»

»

»

A popular Ethiopian singer has been shot this is very sad news, May his soul rest in eternal peace . Thank you for this information 

»

Following thanks for the update

»

»

»

Noted information for sharing

»