Brighton 0-3 Man Utd: Fernandes' brace helps Utd on top 4 to 2 points

By

gabrielangel

• 2 weeks ago •

1864 views •

695 comments
Mason Greenwood and Bruno Fernandes were on target as Manchester United stretched their unbeaten run in the Premier League to eight games.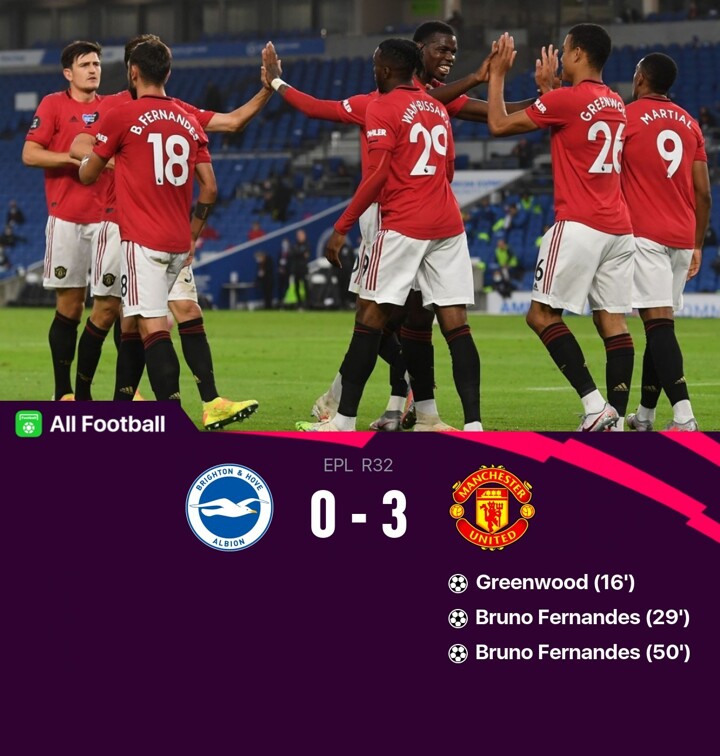 Match Reports
Manchester United's push for a top-four spot continued on Tuesday as they cruised to a 3-0 win over Brighton and Hove Albion at the Amex Stadium.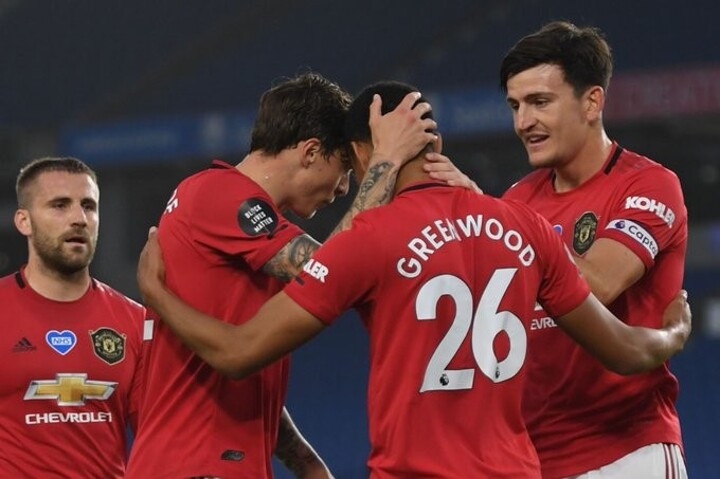 United wasted little time stamping their authority on the game as strikes from Mason Greenwood and Bruno Fernandes put them two up before the half-hour mark.
Greenwood was the provider for Fernandes' second after 50 minutes as Ole Gunnar Solskjaer's side made it eight games unbeaten in the Premier League.
Related Post viewed by other
»

»

»

Congratulations to Man U. They are hot this season 

»

»

»

»

»

Bruno Fernandez was superb last night. He's completely incredible 

»

Report user comment :

 this is so excellent thank you for the information given

»

»

Manchester United never disappoints 😘 

»

Thank you for sharing this information

»

»

»

»

»

»

Amazing performance.. Keep it up all the way to the end of the league

»

»

Thankala u for the update

»

Great performance to Manchester united

»

Manchester united is in good and high spirits... This is so good... Good game. 

»

The game was nice congratulations to Manchester United

»

Manchester United is simply the best team in the world because it knows how to play 

»

Thanks for the information?

»

The future of Manchester United is in the hands of the young stars

»

»

wow this is really somthing interesting

»

»

Greenwood played yesterday😃

»

man united best club in the world.

»

Great and brilliant performance to Manchester United. Thanks for sharing

»

Congratulations Manchester United for the great sore of  3-0

»

»

Manchester United is slowly being established on the map

»

»

Thank you so much for this wonderful piece of information and thanks for the update. 

»

»

Following closely thanks for the update 

»

What an interesting and well articulated and  balanced article,thank you for sharing this piece of information

»

»

Bruno Fernandes has settled in well at Manchester United

»

Congratulations Manchester united 

»

»

Thank you so much for the information primes International you always keep us updated

»

»

Well Manchester United has been doing fine ever since the season restarted 

»

»

Manchester United's push for a top-four spot continued on Tuesday as they cruised to a 3-0 win over Brighton and Hove Albion at the Amex Stadium.

»

»

»

Closely following thanks for sharing

»

Oh well thank you so very much for sharing this

»

Good to know this soccer update thank you for sharing this information to us

»

Following and thanks very for the information and keep sharing your information with us 

»

This is interesting information Thank you for this information being provided on this platform.

»

»

Amazing article 💯😊 thanks for sharing this information with us 💯🙏

»

Thank you for sharing this information will follow it up to 

»

Yes Brighton 0-3 Man Utd: Fernandes' brace has helped Manchester United  on top 4 to 2 points

»

It was really a good game and thanks for the update really appreciate it

»

»

My team all the way . congratulations

»

»

Thanks so much for this information 

»

»

»

Wow this is profoundly amazing and educative. Such information is rare and hard to find nowadays. I'm amazed honestly. Indeed it is imperative to always keep up with current affairs, both local and international

 

»

»

»

This is a very interesting article and extremely informative indeed, this was a great game congratulations manU

»

Man U are really giving Chelsea a run for their money huh 

»

»

Good performance from Man u

»

»

»

They are moving in the right direction

»

Manchester United's push for a top-four spot continued on Tuesday as they cruised to a 3-0 win over Brighton

»

Wow awesome news right here,thanks a lot for sharing this piece of information with us

»

»

 my favourite team, manchester united! we're bouncing back

»

Congratulations to Manchester United for winning the game... Thanks for the update

»

Good performance for Bruno Fernandes

»

»

Bruno Fernandes is just worth every penny spent on him, well done Man United. 

»

»

»

»

»

»

»

Primes international thanks for the update

»

»

Thanks for sharing this information I really appreciate this alot and I have been updated

»

»

»

»

Thanks for the update and for the information

»

Watche tho game Brighton was no match for United 

»

This is a good article I am enjoying reading it thanks for the message... 

 

 

»

»

This is very interesting and educational. I wasn't aware of these things. I will share to my friends and family. So knowledgeable. Very nice and educative. I'm so grateful for this information. It has really helped me understand a lot. The insight is incredible and fascinating. I hope it also benefits others like it has helped

»

»

Thanks for the information 

»

Thanks for sharing this information and keep up with the works people 

»

»

Thanks alot for the informatiomn

»

»

Thank you for this important information and for sharing this article. Please continue updating us.

PRIMES is the best

»

»

»

Thanks for this information 

»

I'm not a soccer fan really but thank you very much for Sharing this post

»

»

»

Thank you so much for sharing this with me and I'm looking forward to be updated more on day to day updates.

»

»

»